Shaft joints DIN 808-G, extendable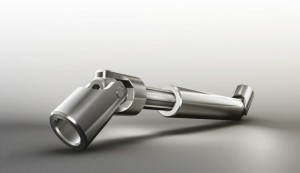 Friction bearing BÜCO precision universal drive shafts are a quality product made of high grade steel (C45Pb). The friction surfaces of the universal joints are induction hardened and vibratory polished. The joint parts are assembled with almost no backlash.
The universal drive shafts have a grease filled bellows at the universal joints and at the shaft, and are preferred for installation in areas which are difficult to access. They can also be supplied with bracket version universal joints.
BÜCO precision universal drive shafts are provided with markings after assembly. When fitting together the shaft, care should be taken that the markings of the two halves of the joint are exactly aligned.
If the markings are out of alignment, the result will be a lack of smooth running, wear will be accelerated, and therefore service life will be shorter.
BÜCO precision joints can also be supplied in stainless Steel 1.4305 / 1.4404 / 1.4571.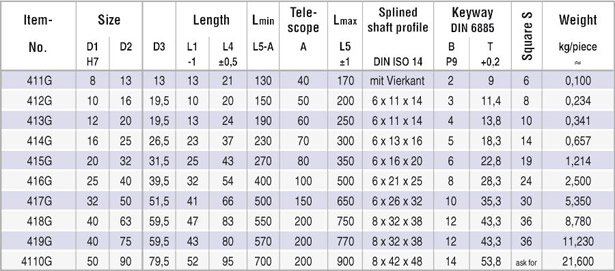 Intermediate lengths are also possible. Please contact us for further details. Maximum admissible speed: 1.000 r.p.m. for C45
Material:
Joints Steel C45Pb
Spline C40
Splined hub 16McCr5
Pipe St35