Universal joint DIN 808-G, double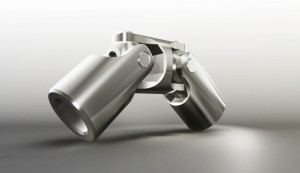 BÜCO precision universal joints are quality products made from high grade steel (C45Pb).
Only the friction surfaces are hardened, so that it is possible to machine the shaft area.
The joints are vibratory polished and assembled with almost no backlash.
BÜCO precision joints can also be supplied unhardened or in stainless Steel 1.4305 / 1.4404 / 1.4571.
Joints DIN 808 are also known under the term ball joints and universal joints.
maximum admissible speed: 1.000 r.p.m. for C45
Material: Steel C45PbK
The universal joints are available in following stainless material grades:
Stainless Steel1.4305, 1.4404 and 1.4571.
Review of other material grades available on request.